FAQs (Frequently Asked Questions)
Q: What exactly am I paying for?
A: When you buy the toolbar, you're paying for the macros we create, including the drum macros, scale/chord macros macros, the Strum macro, the Quantize macros, the macros for adding plug-ins and many more (over 450 customizable macros in total). You also get plug-in presets, a Studio One Recording preset, all macros individually so you can customize them (and two Hi-Res MPW wallpapers: not included yet, free update included).

If you are very familiar with the macros in PreSonus Studio One, you could recreate it yourself. However, if you don't want to deal with it and don't feel like spending several weeks developing it, then this is for you. Just download, install and start producing without limits.

Q: What kind of producers are these toolbars suitable for?

A: The MPW Macro Toolbars "All Edition " contains 4 different macro toolbars that fit perfectly into any workflow. The toolbars support you in every phase of music making: beat making, recording, mixing and even mastering.

If you don't want to buy the whole package, then you can buy the Producer Edition (Beat Making + Recording Toolbar) and the Engineer Edition (Mixing + Mastering Toolbar) can also be purchased separately.

No matter whether you are a beginner, advanced or professional, the MPW toolbars for Studio One make every workflow even better.

Q: Did you create these macros yourself?

A: Yes, at least most of them. Studio One ships with a set of commands and macros that can be used to perform some tasks natively. We also took some macros from the Create Chords section of the PreSonus Exchange and adapted them. We've built over 250 macros from scratch and put a total of over 450 macros into 4 easy-to-use toolbars.

Q: Will the MPW toolbars ever be updated?

Yes, you will also receive free updates all the time! Sign up for our newsletter so you don't miss any updates.

Q: Can I use the MPW toolbars with any DAW?

A: No. The toolbars only work with Studio One Artist/Professional version 3 and higher.

Q: Do these macros work in all Studio One windows?

A: Yes, some However, functions of the MPW Beat Making Toolbar only work at the bottom of the DAW (edit view) and with MIDI events in the piano roll (optimal if 1/16 is set). All other features work fine in all Studio One views.

Q: Are there additional plug-in presets and templates for Studio One?

A: Yes, in The MPW Macro Tollbar for PreSonus Studio One "All Edition" includes a recording template and 10 plug-in presets. All bundles also include a unique MPW wallpaper (not included yet).
installation
Q: Help! I can't see the macro icon in Studio One!
A: Don't worry, you may need to install and enable macros in the settings. Go to Studio One-> Studio One Extension-> Macro Toolbar and make sure the Studio One Macro Toolbar is installed and enabled.
Q: How to install it Macro Toolbars?
A: First copy the MPW Plug-In Presets into the respective folders and then import the MPW Toolbars. Just follow the two steps from the instructions below:

How to copy the MPW presets for Studio One
Open the Content Files_Installer/Presets for PreSonus Studio One folder and copy the presets from the MPW Macro Toolbars folder to the preset folders of the associated plugins. Usually they are located in:
MacOS: Macintosh HD/ Users/ Username/ Documents/ Studio One/ Presets/ PreSonus e.g. / Pro EQ or / X-Trem
Windows: C:/ Users/ Documents/ Studio One/ Presets/ PreSonus e.g. / Pro EQ or /X- Trem
How to install the MPW Macro Toolbars for Studio One
Open PreSonus Studio One 3 (or higher) and unfold the macro toolbar (click the icon between "Quantize" & "Input Quantize").
Right click on the name of the selected one toolbar and click Import. Open the folder Content Files_Installer/Toolbars by Musikproducer Werden.de and import your toolbar. That's it. Have fun!
How to customize MPW Macros for PreSonus Studio One
1. Open PreSonus Studio One 3 (or later) and expand the Macro toolbar. Open an MPW toolbar.
2. Right-click the command in the MPW Toolbar and click "Edit Macro".
3. You can edit existing commands by changing the "State". You can also add or delete commands. We cannot guarantee full functionality if you change the order of commands, so you should only do this if you know what you are doing or make a backup before editing macros.
You can click on also access this menu and all macros via the macro administration. Select a macro and click Edit to customize it.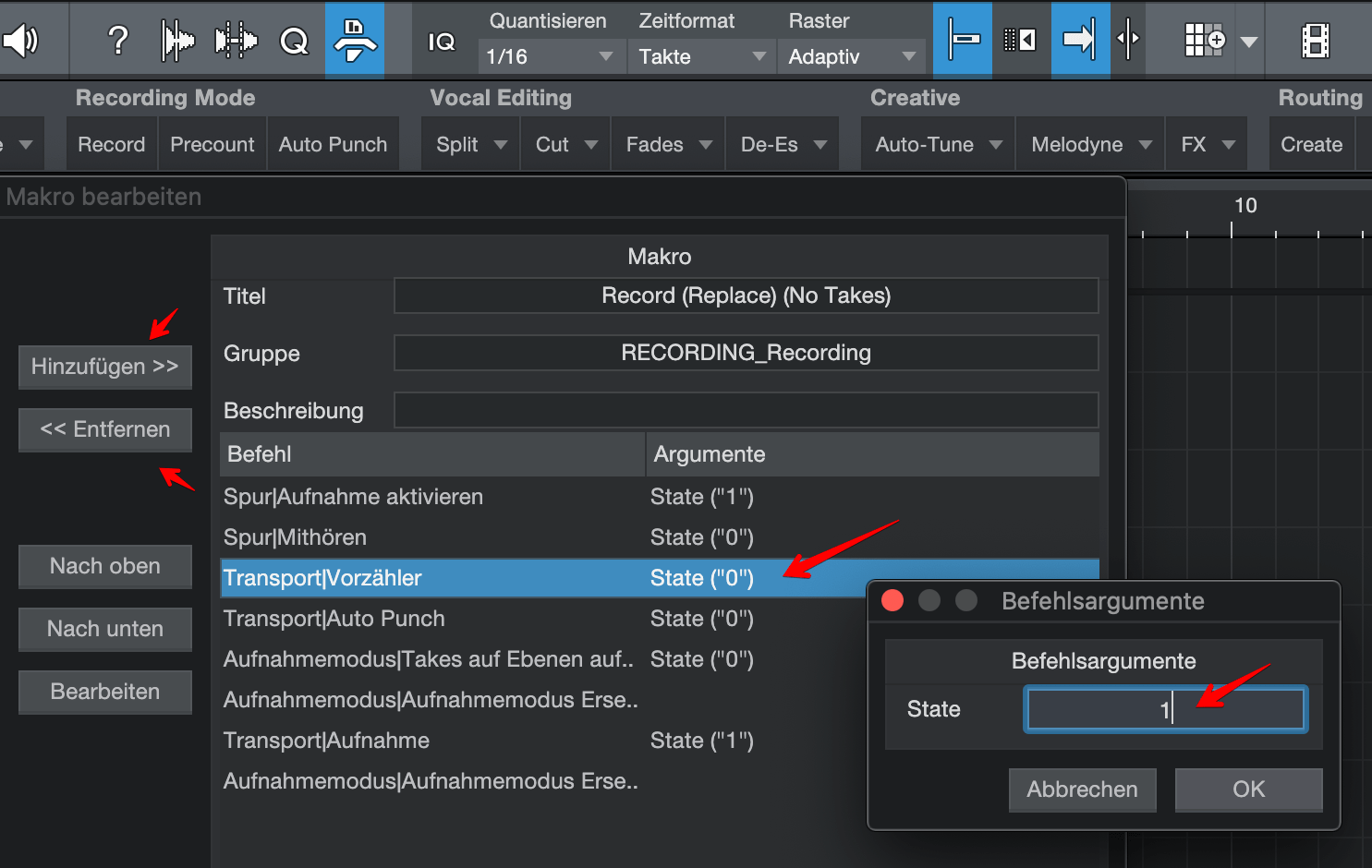 bug reporting
Q: I found a bug. How can I report it?
A: Before you report a bug (error), please read the following chapter "Common Bugs & Best Practice".
Q : I would like to report a bug via email.
You can send a bug via email to support (at) musikproducer Werden.de.
IMPORTANT! Be sure to include the following information:
● Invoice number
● Studio One version
● Operating system
● Version of the operating system
● Description as detailed as possible (If you don't know how to writes a bug report, please read the two short chapters "Bug Report Tips" and "Can you reproduce the problem?": How to report a bug)
We cannot process your request without this information. If we manage to fix a bug you have reported, we will make the bug fix available to all users free of charge with the upcoming update.
features in detail
Q: Do these macros work with audio files?
A: There are macros applicable to audio files such as Print Dry/Wet/FX only, Bend Drums, etc.
Other macros are applicable to tracks, some to inserts, busses, automation and there are macros from the MPW toolbars that can be applied to MIDI events.
Q: Can I use those Use macros with any plugin?
A: Yes, you can easily customize the existing macros even if you don't own the plugins we have associated with our macros. Please refer to the chapter "How to customize MPW Macros for PreSonus Studio One".
Q: What plugins are associated with the MPW Macro Toolbars by default?
A: By default, the toolbars are associated with the following plugins (as VST3 versions):
● PreSonus Pro EQ 2 (default plugin) (including preset)
● PreSonus Compressor (default plugin ) (including preset)
● PreSonus X-Trem (default plugin) (including presets)
● PreSonus Mixtool (default plugin) (including presets)
● FabFilter Pro-Q 3
● FabFilter Pro-C 2
• FabFilter Pro-G
• FabFilter Pro-DS
• FabFilter Pro-R
•• Valhalla VintageVerb
•• Valhalla VintagePlate
•• Valhalla VintageRoom
● Native Instruments VC 76, VC 2A, VC 160 (Vintage Compressors)
● Slate Digital Virtual Mix Rack
● Virtual Tape Machines
● Kilohearts Transient Shaper
● Kilohearts Tape Stop
● Polyverse Music Wider (free)
● MeldaProduction MTuner (free)
● Waves Doubler and more
Q: Why are only plugin presets included for stock plugins?
Unfortunately, macro commands in PreSonus Studio One don't allow this yet Loading third-party plugins in combination with a preselected preset, so we decided against adding third-party plugin presets.